Bollywood,Sept145:Aditi Rao Hydari has always been a bit of an oddity in Bollywood.
Despite being cast by some celebrated filmmakers – Sudhir Mishra, Sanjay Leela Bhansali, Rakeysh Mehra, Mani Ratnam – the award-wining actress has always stopped short of being considered marquee material in the big-ticket projects to which she has added heft and nuance.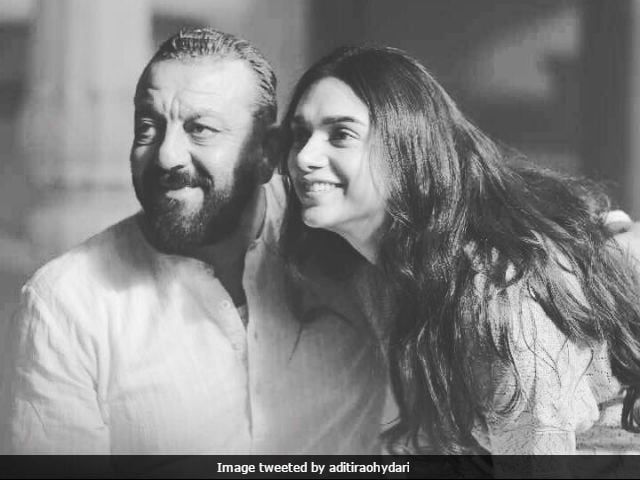 Omung Kumar's upcoming film Bhoomi could change that perception. The September 22 release stars Rao Hydari in the titular role, with Sanjay Dutt playing her avenging father. She is also in Bhansali's November release Padmavati as Alauddin Khilji's wife. Excerpts from an interview.
You have worked with some of the most elite filmmakers in Bollywood. How do you position 'Bhoomi' in this context?
It is always great to do different kinds of films and roles because quite often, we get boxed in and it is really difficult to break out of it. Somewhere I feel quite blessed that good filmmakers have picked me for their films. This year has been especially good – with Mani sir's classic to Sanjay Leela Bhansali's epic Padmavati and a thrilling revenge drama and a father daughter story. One step at a time but very gratifying.
Bhoomi was hard in many ways. But I was up for a challenge. Here is a girl who wants to be in charge of her own destiny, with her father's support. She is in an equal relationship with her father. She is hurt but not broken. She is not cowering. And father and daughter always stand for each other. We have shown a father walk into a kitchen to teach his daughter how to cook. It is very topical in today's context.
There are several other references to a girl's world – how her home is not her own, but her parents'. And then her in-laws'. There are many other issues that this film may force you to confront – honour killing, violence in all forms against women. So yes, easy storytelling that raises a lot of important questions; questions that make my blood boil. I was lucky to be a part of such a film.
It came as a surprise to have you and Sanjay Dutt in lead roles. How did you become a part of this project?
Omung sir [Kumar, the director] and Sandeep [Singh] co-producer had been toying with the idea of doing this film with me, and he mentioned it to me causally. I didn't realise how serious they were – I took it as one of the many things that people tell you.
When I was shooting for Padmavati, they called me and we met up. They narrated the story to me and when it ended, I could not respond. I needed air. It was very disturbing at various levels. I told them that I needed time to work it out.
Other than the social and cultural message, what else about the film affected you?
The relationship that this simple, sunshine girl has with the paternal figure. Having grown up without my father (her parents separated when she was two) and having lost him only a couple of years ago, I could relate to the film at a more personal level. And also the question that it raises: girls are with their families all the time. But are their families with them?
Did you feel any scepticism over your abilities to pull off such complex roles?
There were many who were against me playing this part and, and they did try to put a spanner in the works. I got to hear things like, this is a strong role, she looks too fragile.
What does that mean?
Exactly my point. It was ridiculous, really. They also said the role should have been given to a fresh face with no baggage, and I have been around for six years already. But thankfully, the filmmakers believed in my abilities and my innate strength and the fact that I am versatile enough to have made a mark in a variety of roles. I guess I have some unseen guardian angels who made them see those qualities in me.
This is also a significant film for Sanjay Dutt after his release from prison. What was it like working with him?
For the moment Sanjay Dutt walked onto the set, it was an equation set in stone. He was a tremendous presence: focused, disciplined. He chose this project as his comeback film over other scripts, a film in which the title character is a woman. A film where the first muhurat shot is not just about him, but both of us. The opening shot of the film shows me dyeing his hair.
You could see the hunger in his eyes for good cinema and the dedication with which he shot this film. All the men on the set made me feel that I had a voice that was heard. Every time I suggested changes in the dialogue because I thought it would be out or character, Sanju sir acknowledged it.
It was also so touching to see the unconditional love people have for him and how, despite all the knocks that life has dealt him, he is all heart. You cannot write off Sanjay Dutt. Ever.